Thank you to the USDA, we are a BioPreferred Program Champion!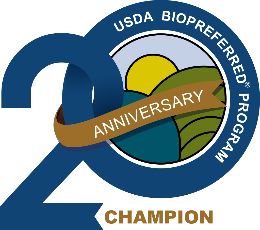 This badge signifies our long-term commitment to using renewable materials, reducing our reliance on petroleum, supporting the bioeconomy, and bettering the planet.
The USDA BioPreferred® Program is celebrating 20 years as the Federal Government's official advocate and market accelerator for biobased products.
USDA's BioPreferred Program was first introduced in the 2002 Farm Bill with the goal of increasing the development, purchase, and use of biobased products. It requires federal agencies and contractors to give purchasing preference to biobased products.
"While we've accomplished a lot in 20 years, we're even more excited by the momentum and growth we see in the bioeconomy and its prospects for the future. Here's what we're seeing:
Over 7,000 products in our catalog eligible for federal purchasing preference across 139 product categories
Increased reporting of biobased purchases by federal contractors
Continued increase in applications for certification
Over 6,200 USDA Certified Biobased Products
Participation from businesses in 47 countries and more than 1,500 companies in the U.S.
A 536% increase in certification of upstream materials from 2015 to 2022! This includes binders, chemicals, cleaner components, fibers and fabrics, foams, lubricants, oils, fats and waxes, paint and coating compounds, personal care products components, plastic resins, rubber materials, and textile processing materials."