PENETRATING LUBRICANTS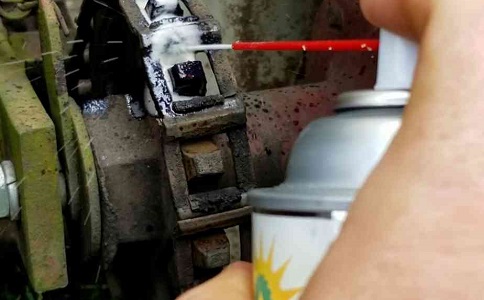 Bio-Penetrating Lubricant™ (BPL™) With Antiwear
A specially formulated, ultimately biodegradable1 penetrant that can be used as a light lubricant. Because of the super high viscosity index of the HOBS, this product performs in many applications. BPL™'s patented composition of additives and base fluids provides a protective, thin film lubricant. This natural oily film has shown in laboratory and field tests to outperform petroleum base oils in terms of natural lubricity.
Detail…
Bio-Blast™ Penetrant (Low Surface Tension)
A specially formulated, high performance, biodegradable, and fast acting penetrant that blows away rust, dirt, and also the competition. Bio-Blast™'s patented composition of additives and bio-solvents provides a fast penetrating catalyst that is non-staining to ferrous and non-ferrous metals.
NSN# 9150-01-591-4274
Detail…
Bio-Penetrating Lubricant Plus Tack™(Lubricant & Corrosion Inhibitor)
The addition of a food grade tackifier provides adhesiveness to the performance of BPL™. Some applications and environmental conditions may require an additional tacky surface film that protects equipment from corrosion. The tackifier added to BPL™ helps meet this requirement and also holds the lubricant to the surface of moving parts and improves anti-wear.
Bio-Penetrating Lubricant Plus Moly + Tack™
BPL™ Plus Moly with Tackifier has performance advantages in some applications such as high speed roller chains, cables, and moving parts. This product penetrates rapidly and adheres to the application, forming a lubricating film that cannot be wiped away by extreme pressures and high speeds. It protects metal surfaces from rust and corrosion that are exposed to environmental conditions. The molybdenum disulfide (Moly) provides an extreme pressure lubricant that reduces friction and wear.
Bio-Penetrating Lubricant™ Plus Moly(Chain & Cable Lubricant)
A specially formulated, Biobased, Penetrating Lubricant that provides a protective Moly film to sliding surfaces, but is more resistant to dust and dirt than the BPL™ products with tackifier.
Bio Penetrating Lubricant™ (BPL™) Food Grade With Antiwear H1, H2
BPL™ Tacky White (Food Grade H1)