The purpose of the USDA Biopreferred program is to promote the increased purchase and use of biobased products. The program is expected to promote economic development, creating new jobs and providing new markets for farm commodities. To the extent that the BioPreferred program achieves its purpose, the increased purchase of biobased products will also be expected to reduce petroleum consumption, increase the use of renewable resources, better manage the carbon cycle, and may contribute to reducing adverse environmental and health impacts.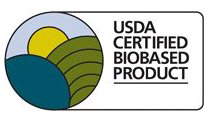 The USDA Biopreferred program has two major initiatives:
-Product Labeling USDA certifies and awards labels to qualifying products to increase consumer recognition of biobased products.
-Federal Procurement Preference USDA designates categories of biobased products that are afforded preference by Federal agencies when making purchasing decisions.
RLI proudly displays the USDA Certified Biobased Product Label on its products.