Farm couple's business slides past petroleum
Story by Seth Teter | Photos by Bryan Rinnert
Before oil prices flirted with $150 per barrel, and before "go green" became the mantra of so many marketing campaigns, Bill and Jackie Garmier were getting the wheels turning.
Bill was a whiz in the industrial lubricants industry and Jackie shared his entrepreneurial spirit. In the early 1990s, the Portage County farm couple began exploring ways to make lubricating oils that were both environmentally friendly and derived from domestic, renewable sources.
"We're agricultural people, so this made good sense," Bill said.
A Department of Defense contract to create a homegrown oil product put things into motion, and the couple launched their business, Renewable Lubricants Inc.
"In the beginning, there was a lot of skepticism," Bill said of his effort to offer alternatives to petroleum. "We pioneered this more or less."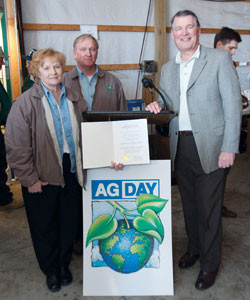 But when a champion drag racer blew past the competition with corn oil in his engine, many skeptics got on board. From the beginning, it has been a similar process of critics becoming believers as Renewable Lubricants continued its research and development of earth-friendly products.
"We know we have to compete with high-quality petroleum products," said Jackie, the company president.
It seems they are up to the challenge. Renewable Lubricants offers more than 150 biobased and biodegradable products that are used worldwide in everything from high-tech submarines to high-performance engines. The oil comes from crops such as corn, soybeans, sunflowers and canola. The company now boasts that it is the world leader in its industry.
"What better business could you be in that helps the environment, that helps farmers," Jackie said.
Lubricating oils are a 16-billion-gallon per year market, so there is plenty of room to grow, Bill said. And when oil prices spiked last year, it got everyone's attention.
"We have people that call in and say 'Enough is enough, we have to look for alternatives,'" he said.
The couple also cites an estimate that 100 million gallons of lubricating and hydraulic oils are leaked into the environment each year. Garbage trucks, for example, are prone to leak hydraulic oil and clean-up can be expensive, Jackie said. But a switch to a biodegradable product could ease this problem.
Municipalities and park departments across the nation are among those making the switch to Renewable Lubricants either on a test-basis or full scale. The local transit authority is also on board. The Garmiers even specially formulated a hydraulic fluid for the BMW Oracle regatta racing team. Now they are focused on swaying the state of Ohio to take steps to becoming a little greener.
"We'd like Ohio to become the renewable, green jewel of the Northeast," Jackie said.
Earlier this year, the Ohio Department of Agriculture celebrated Ohio Agriculture Day at the Garmiers' farm, and Department Director Robert Boggs called their operation "a shining example of how traditional agriculture fits into our nation's overall movement to meet our ever-growing demands for fuel, energy, and other petroleum-based products."
The Garmiers say the most satisfying part of what they do is being able to help others.
"It's been a fun business to be in because it's clean, it's helping our agricultural side, it's keeping our money at home," Bill said.
As concerns about the environment and foreign oil seem be increasing, the Garmiers say they are well-positioned to provide solutions.
"We believe the business is really going to explode," Jackie said.
To comment on this article, e-mail info@ourohio.org.